Sowon of the girls group GFRIEND is contr
On February 1, Sowon posted two photos on his SNS Instagram and deleted them shortly after a while. Sowon in the photo is posing while touching the face of a male mannequin in German military uniform, hugging his hips and posing.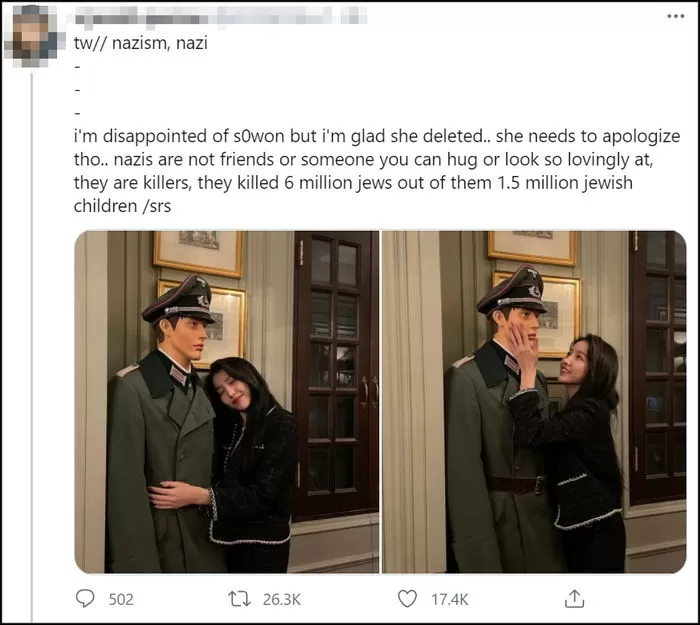 Foreign internet users immediately expressed a strong sense of refusal, referring to the Holocaust, where the Nazis slaughtered about 11 million civilians, including Jews, during World War II. Since then, the fact has been disseminated through Twitter and other media, and has been criticized by overseas Internet users.
As of this day, "Korea" has risen to the top of the US Twitter real-time trend ranking, but it is pointed out that it is related to this. Sowon is related to this, and there is no mention after deleting the photo, but as of this day, Sowon's Instagram has posted a lot of apology requests from overseas Internet users.
The Nazi mannequin appears not only on Sowon's Instagram, but also on GFRIEND's official YouTube video. This is not just a problem for Sowon, but the agency should apologize. You should think a little more carefully when choosing a shooting location. Please delete the official video immediately and apologize to overseas fans so that the problem will not grow any further.
oversial with a photo of her holding a Nazi mannequin.
Currently, not only overseas but also Korean online communities are flooded with writings criticizing Sowon's actions. South Korean internet users have also been criticizing Sowon, who acted carelessly, saying, "If you studied history even a little, it was an action you should never do."
Big Bang G-Dragon Biography (Girlfriend, Net Worth, Facts)
2PM Members Profile (Facts, Age, Height)
SUPER JUNIOR Hichul, AOA Jimin & Soryon Why did you quit your friendship?
Hotel del Luna Season 2 Release Date, Plot, Cast and News!